An easy and enjoyable way to reduce insomnia
Reduce stress, and insomnia goes down by itself.

"No other 'stress management technique' has anywhere close to TM's amount of hard data in support of its claims to reduce stress."
Norman Rosenthal, MD, U.S. National Institutes of Mental Health
What you will read below may sound too good to be true…
A simple enjoyable technique that has better effects than most medicines, but without any negative side effects, must sound too good to be true, but the benefits of Transcendental Meditation on health, including insomnia, have been backed up by hundreds of studies from over 250 universities and research institutes around the world, including:

Here's how it works: Deep rest removes deep stress
6 million practitioners and 40 years of research confirm that Transcendental Meditation is the most successful relaxation method in the world, because it creates a far more profound state of rest than ordinary relaxation.
A research from Harvard Medical School showed that when the mind transcends the body comes into a state that is far deeper than even deep sleep, and goes there far more quickly.Ref.Scientific American 226:84-90 1972. The state of rest in this graph is relative to sitting position, and by itself doesn't indicate that the rest goes deeper than sleep. However this is the average state of rest during TM practice. More detailed research has shown that during transcending itself, the rest goes far deeper still. A meta-analysis of 30 studies showing the deep rest during TM has been published in American Psychologist, 1987, 42: 879-881.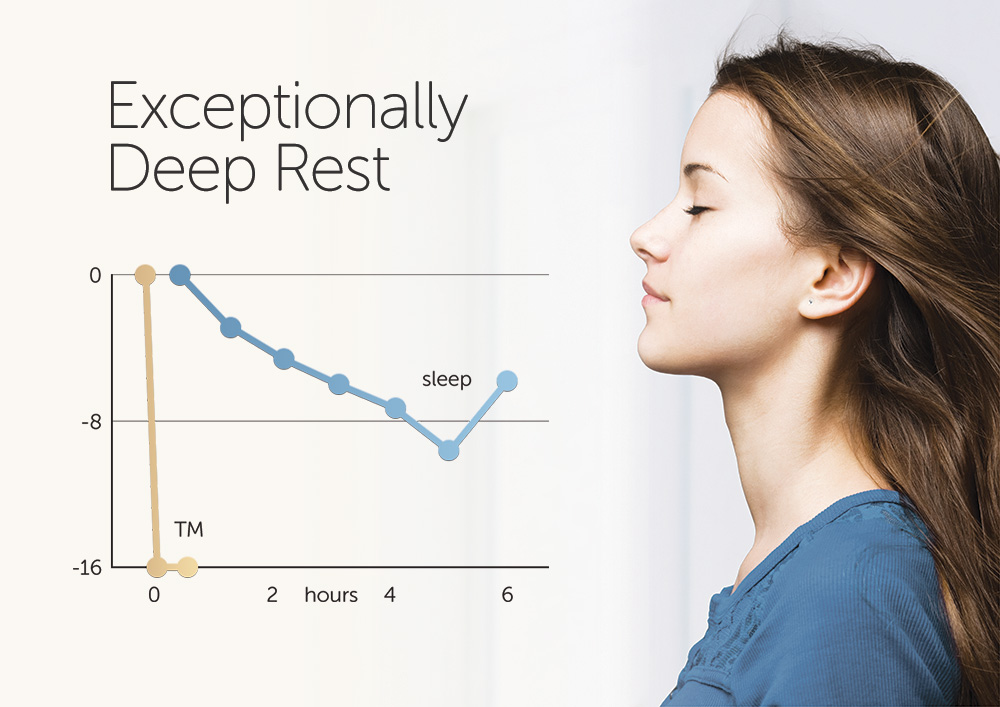 This deep rest allows the body to remove even the deepest traumatic stresses effectively, often in a matter of weeks. In a study with war veterans suffering from PTSD the TM group saw such significant improvements that after 3 months 70% of veterans were healed, while the control group who received standard psychotherapy saw no improvement.Ref.Journal of Counseling and Development 64: 212–215, 1985. Several other studies have confirmed these results. Ref.Military Medicine 176 (6): 626-630, 2011 Ref.Journal of Traumatic Stress. 2013:1-14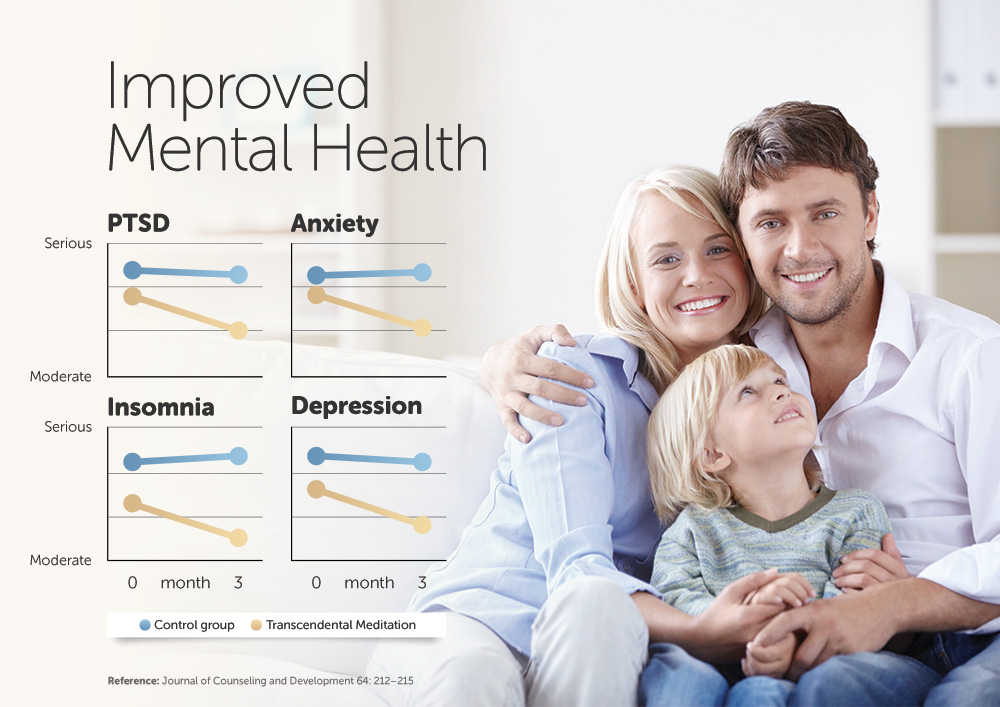 The effects of TM on traumatic stress were so impressive that CNN reported it (see CNN video) and the US army now supports TM.
This video shows examples of how powerful TM is to reduce stress, and why more and more scientists, celebrities and governments now support the TM technique.
Decreased insomnia: The research
One of the first things many TM practitioners notice is better sleep.
One of the first things that many TM practitioners notice is better sleep. Sleeping disorders can often be related to stress and, today, we are able to provide a more scientific explanation for this.
One of the most common causes for sleeping problems is an abnormally low level of the "happiness hormone" serotonin. Stress is a big influence on this. As the normal functioning of the nervous system is disrupted, serotonin production will decrease. The practice of Transcendental Meditation increases the serotonin level spontaneously and reduces the level stress-related hormones (see transcending = inner peace and happiness), which affects a large number of areas in life particularly the quality of sleep.
When we activate the body's own healing power (see why is TM so effective against stress?), we may notice that our sleep improves spontaneously. For more information about the effect of TM on sleeping problems, go to doctors answer questions about TM and insomnia.
Scientific research
The first study of the effects of Transcendental Meditation on insomnia was a small pilot study at the University of Alberta in Canada. A group of insomnia patients was asked to register the average amount of time it took to fall asleep, for 30 days prior to learning TM, and for 30, 60 and 90 days afterwards. The average time dropped from 75.6 minutes to 15 minutes and remained stable at that time. (p<.001). A subsequent study showed that also in the long term, after 1 year, the time needed to fall asleep remained stable around 15 minutes.Ref.Scientific Research on TM, Collected Papers vol 1: 41 pp 296-298
Large study in Japan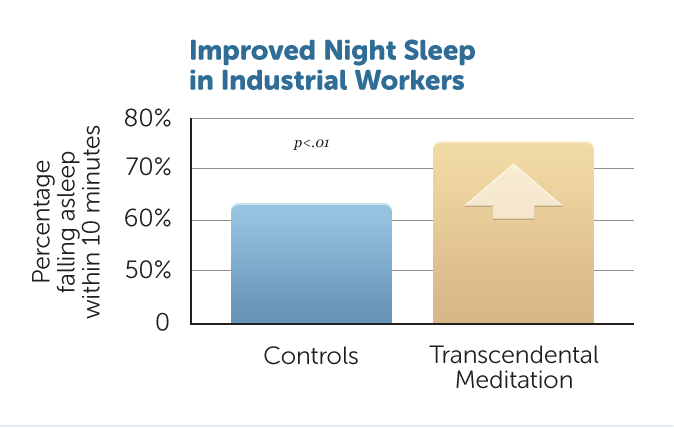 A large study, carried out by the Japanese National Institute of Industrial Health, established that 427 Sumitomo Heavy Industries employees that learned the Transcendental Meditation Programme were able to fall asleep more easily after 3 months than the control group of 308 employees at the same work place. (p<.01)Ref. Japanese Journal of Public Health 37 (10 Suppl.): 729
Government research: 95% feels TM is easy, effective, valuable
Over the past 8 years the department of Education in San Francisco has done 17 TM studies in 4 schools, showing the powerful effects of the combination of reduced stress and more complete brain development as a result of TM practice.

These results are confirmed by a pan-european survey of 500 TM practitioners, where 97% felt that TM was a good investment.
By now 450 schools in 60 countries are using the Transcendental Meditation program as part of their school curriculum.
Do you have 90 min to discover how everything can change?

"I have tried meditations but I could not do it. I concluded that I'm apparently incapable of meditating… when I learned TM it was the easiest thing I've ever done… I got my entire family to learn."
Cameron Diaz
The first step to learning TM is simply to attend a free info seminar where you can:
meet your local teacher,
hear in more detail how the TM technique actually works and what you can expect from it,
ask any questions.
This free info seminar is without obligation to take the further course.
Learn Transcendental Meditation in Quezon City TM Center
Room 701B, Victoria Villas Condo, 28 Sen. Mariano J. Cuenco St. corner Mayon St., Barangay Sta. Teresita, Barangay Sta. Teresita - 1114 Quezon City (Metro Manila) Click here for map
TM Introductory Lectures
The Lectures are free but the number of places is limited. Register below.
Quezon City TM Center TM Center
Room 701B, Victoria Villas Condo, 28 Sen. Mariano J. Cuenco St. corner Mayon St., Barangay Sta. Teresita, Barangay Sta. Teresita - 1114 Quezon City (Metro Manila)
TM Teachers

Marife Francisco +639178525438

Marvin Francisco +639175031085